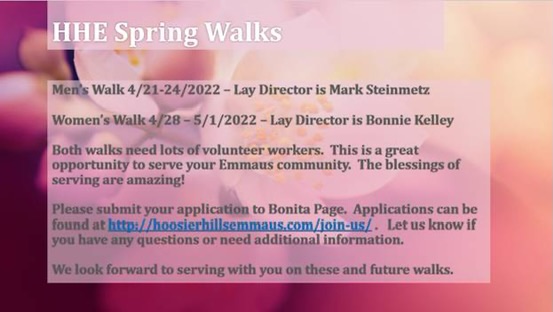 Our Vision
To create Fourth Day leaders by embodying Jesus Christ in all we do and say
Statement Regarding Servanthood
​Pilgrims
Emmaus is open to all who believe in Jesus Christ and are sponsored by an active community member so they may experience Agape Love.
Team Members
Team selection will be made by the Team Selection Committee with preference first toward the following
Active community participants who attend Gatherings and Reunion Groups on a regular basis.
Those who have never served on a team or have not served in recent months.
Those who commit to attend team meetings.
Those who commit to be a mentor to the pilgrims over the next few months after the walk.
Those who have a lifestyle that embodies Christian love.
If at any time during team meetings or the walk, a team member or pilgrim becomes a distraction in any way, the Board Rep, the weekend Spiritual Director, and the weekend Lay Director will consult with one another and prayerfully decide whether or not the team member or pilgrim should be asked to leave